News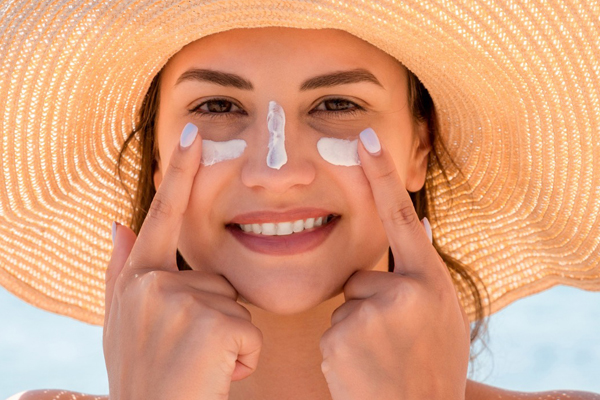 Why is it important to wear sun cream all year round?
1 Prevent sunburn
Sunburn is never fun. Your skin can be left red, peeling and in pain due to the inflammatory reaction from over exposure to the sun's UV rays. The time spent unprotected in the UV along with other factors including your skin type and its unique colouring, may result in prolonged negative effects. This is why sun cream is critical when you are outside to protect your skin from not only sunburn, but the long-term consequences.

2 Reduce your risk of skin cancers
What are the long-term consequences? Skin cancer. The scary 'c' word, no one wants to hear. Recently, the Skin Cancer Foundation reported that wearing sun cream regularly can reduce your risk of developing squamous cell carcinoma (SCC) by approximately 40% and lowers melanoma risk by 50%.
3 Avoid developing an uneven skin tone
UV damage can cause skin discolouration or hyperpigmentation, which is the uneven production and distribution of melanin in your skin. Over time, this can lead to darker areas of skin or even some areas appearing more red or irritated. Daily application of sun cream acts as a preventative measure to maintain an even skin tone.

4 Prevent your skin from premature ageing
Healthy, smooth, glowing skin is something we would all love to keep for as long as we can. Ensuring you regularly apply sun cream helps to prevent signs of ageing including sunspots, fine lines, wrinkles and sagging.
The Skin Cancer Foundation also reported that people who use sunscreen with an SPF of 15 or higher everyday are 24% less likely to develop signs of ageing than those who do not. Plus, it is estimated 90% of skin ageing is due to the sun! Need we say more…Wear your sun cream daily, you've got nothing to lose and everything to gain.
5 Enhance your skin's health
When you wear sun cream you protect your skin, which means essential skin proteins such as collagen and elastin are not harmed. Again, this is just another reason to incorporate sun cream into your daily skincare routine. Simply layer over your mosituriser and reapply as necessary when you are out enjoying the sunshine.

What is the best sun cream for your skin?
The benefits of using sun cream daily far outweigh leaving it as a nice 'to-do' task. When thinking of what sun cream to use you need to consider that not all are made the same. Consider quality of ingredients, the science behind the products and how it will work with your skincare routine.
We recommend incorporating dermaviduals Suncream SPF 15 into your skincare routine. Like all of our products, it is based on the science of Corneotherapy to work with your skin. dermaviduals Suncream SPF 15 protects from UVA and UVB radiation for face and body, allowing you to stay approximately 15 times longer in the sun before erythema (sun burn) develops.
Some of the outstanding benefits of the dermaviduals Suncream SPF 15 is that it is fast penetrating, spreads easily, has a light and non-oily consistency and is reef safe. All the while reducing your risk of sunburn, which helps to prevent premature ageing.
Super easy to apply. Follow your normal skincare routine in the morning and finish with your dermaviduals Suncream SPF 15. Apply a sufficient amount prior to being exposed to the sun and we always recommend reapplying onto dry skin after sweating or swimming.
Available in Clinic